$49.95 now $39.95

From the website: "Your Job Hunt Is A Marketing Campaign... YOU Are The Product for sale...And Your Resume Is The Salesperson!"

A good product that suffers from an exasperating web site feature. Be forewarned: an animated character begins talking to you immediately once the site loads. If you're in an office and don't want your cube neighbors to know you're job searching, have your computer volume turned low or be ready to click the animated head to stop the diatribe. If you're at home, or someplace where a talking animated head won't raise eyebrows, let the little character have his say. He offers up a pretty good tip.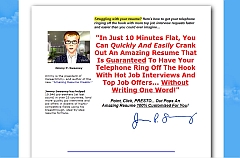 The brainchild of one Jimmy Sweeney, a professional copy writer and direct response marketer, this product promotes itself as applying those "proven trade secrets" to create powerful resumes.
How It Works:
Purchase the product and immediately download the program onto your computer. Open the application and follow the onscreen instructions to 1) select the type of resume you want to create, and 2) "tailor" the resume from the template on your computer screen. The program automatically interfaces with MS Word, making changes and tweaks easy for those already familiar with Word.
Here's What We Liked:
It's risk free. Try the product for 56 days. If not completely satisfied, drop Mr. Sweeney an email stating that you'd like your money back, for whatever reason, and it will be done.
Build as many resumes--or variations of a resume--as you like. You've bought the software, nothing else to purchase.
Three free downloadable ebook gifts with purchase: "Top 3 Award-Winning Resume Cover Letter Templates, plus "Amazing Job Interview Success," and "The 'Big 3' Salary Negotiation Secrets!"
No fluff. The program (and the free ebooks) are packed with spot-on advice and at times, brilliant help in marketing yourself in simple, logical and innovative ways.
Lifetime free product updates.
Here's What We Didn't Like:
That dang talking head with no [pause] button. Ah well.
Amazing Resume Creator - Review Summary:
In summary, Amazing Resume Creator is a good product with a unique twist on run-of-the-mill resume builders. Mr. Sweeney's background in direct response marketing proves itself a significant strength in resume writing. It makes sense. A resume is, after all, a fiercely competitive marketing campaign played out on a single page or two of paper. We suggest you add "The Amazing Cover Letter Creator" to your order. It's only 10 more bucks and well worth it.
While not as flexible and feature-filled as our Top Pick in Resume Builders, this one does come with an iron-clad money-back guarantee of satisfaction. You have nothing to lose.
Go To Amazing Resume Creator



Back To Top
Go back to "Reviews of Resume Builders"