$49.99 now $29.99

From the website: "EasyJob has specific cover letter and resume building rules for different kinds of job seekers. This way, your resume is tailored to your needs, goals and situation..."

One of the better resume builders, this company's software has already been downloaded 500,000 times with sales in the U.S. alone at more than 100,000. Part of the popularity is a catalog of over 25,000 resume templates from which to pick. Not to mention rock-solid software and an affordable, one-time price that lets you build as many resumes--and cover letters--as you'll ever want.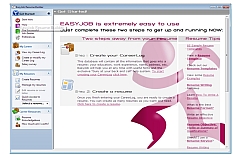 How It Works:
Purchase the product and download the software onto your computer. Open the application and follow the onscreen instructions to first create your CareerLog--information like name, address, work experience and education. This is the foundation from which your resume will be built. The program assists at every step of the way with tips and actual resume wording samples.
Once your CareerLog is completed, select from 25,000 professional resume templates. A corresponding cover letter is created alongside the resume. Edit, modify or update the information in your CareerLog, and the program pulls that new information to create a new resume, making it easy to create multiple, individualized resumes/cover letters for multiple job opportunities.
Here's What We Liked:
Demo available for download. Try before you buy.
Pay a one-time, very reasonable $29.99, and build all the resumes you'll ever want or need.
25,000 templates.
Cover letters included.
Displays thumbnails of all the resumes you've created, organized by the modification date.
Keeps track of which companies you've submitted to, and which resume version they received.
Save/export your resume in a variety of formats, including MS Word, PDF, ASCII text, HTML, and RTF.
The word processor is similar to MS Word. In fact, you can use Word to edit your resume.
Email your resume and cover letter straight from the program--with nothing to configure.
Money-back guarantee if you're not completely satisfied. No exceptions, no fine print, no strings.
Did we mention, 25,000 templates?
Here's What We Didn't Like:
No easy provision for an objective. As it stands, those wishing to utilize an objective statement will need to tinker with the finished product--certainly doable but more trouble than if the company had incorporated that option into the program. Note: the company does offer some valuable insight into why they left off the objective option. Worth reading.
Nothing else. We're pretty happy with this product.
Easy Job - Review Summary:
In summary, Easy Job is a very good product that's easy to use and offers tremendous flexibility in design and format. The additional program features like thumbnail organization and submission tracking capabilities are practically worth the price alone.
Remember, you can try the free demo before you buy. Plus, the 100% money-back guarantee protects you after you buy. It all adds up to zero risk.
Get started with Easy Job


Back To Top
Go back to "Reviews of Resume Builders"