Post your resume on up to 80 top job sites, like Monster.com, HotJobs, Headhunter, CareerBuilder, Flipdog and more. Or... email blast your resume to a targeted list of 10,000 employers and recruiters, with a guarantee to be seen by up to 1,000 different companies. Or... both.



The company offers two options--and two prices--for paid resume distribution, and a rare (they claim the only) money back guarantee for such services.
How It Works:
Sign up for a free account, which provides a resume posting service including a web-based email account and job search organizer, at no charge. During signup, you're given the option to purchase one of the additional,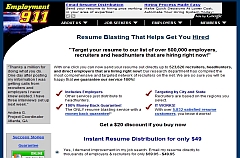 fee-based resume distribution services. You can choose to have your resume posted to all the top job sites for $59.95. Or choose to have your resume distributed (blasted?) via email to the above mentioned list of 10,000 employers and recruiters for $49.95.
Of course, you can also choose both resume posting and email blasting for $98.00 (a 10% savings off the already discounted pricing).
Once your selection is made, you can identify categories that will maximize your resume's distribution, or focus that distribution more narrowly. Recruiters can be targeted by city, state and specialty.
Here's What We Liked:
Option that includes resume distribution to employers (most other such services will only target recruiters).
Additional services offered under one roof, from a professional resume writing service to job searching tools to that free resume posting mentioned above.
The only resume 'blasting' service that offers a money-back guarantee. If you don't get a response within 60 days, they'll re-blast your resume for free. If after 60 more days you still haven't received a response, they'll refund 100% of your money.
No fly-by-night; parent company established in 1997.
Here's What We Didn't Like:
No complimentary resume builder (Resume Rabbit offers one).
No FAQ (frequently asked questions). In fact, many details of their services--free or otherwise--are simply unavailable until you sign up and become a member.
Regarding the "blasting" of your resume to employers and recruiters, company offers no listing of industries or disciplines (specialties) represented by the targeted recruiters. You're left to wonder until you sign up. In contrast, Resume Zapper provides such a listing--up front before you ever pay them a dime.
Web site tough to navigate.
Employment 911 - Review Summary:
In summary, if you're looking to post your resume to all the top job sites, we would have to give the nod to Resume Rabbit. Given their more straightforward and user-friendly service, submission reporting feature, and option for anonymity, the Rabbit inspires confidence. And if top U.S. recruiters are your target, we would recommend Resume Zapper as the superior service.
One thing worth considering: Employment 911 offers the enticing option of delivering resumes directly to both employers and recruiters via email. With a money-back guarantee of results, that service seems a reasonable bet.
Go to Employment911.com


Back To Top
Go back to "Reviews of Resume Distribution Services"