$14.95 monthly sub.
From the website: "Your unique profile determines what information you're prompted for. An experienced professional, for example, will be prompted for different information than a student, or a parent returning to the workforce."
The people at Pongo have done a number of things right. Foremost among them, they offer a free trial of their resume builder. Free speaks volumes in my book. And of course, I took them up on that offer. As I was working through the steps, I found the program to be intuitive, easy to figure out, and quick to master. I stopped with two resumes, but you can create one or a hundred, each fine-tuned for a particular job opening -- or launching off in an entirely new professional direction. And cover letters are part of the package.
Because your resume remains on the company's server, they're able to offer a variety of options for delivering that resume to your intended target. For example, download it in WORD to your computer where you can print hard copies at will. Or email directly from Pongo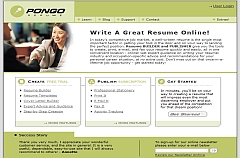 in PDF or plain text format to a job board. Or fax it straight from their site to an employer -- no fax machine needed. You can even create a resume webpage, a professional HTML webpage with a unique URL; send a link to an employer, and they can see your resume online.
A subscription-based business model helps keep this resume builder extremely affordable. Ten bucks buys you full access to all the features on the site for a month. Create and download your finished resume and cover letters onto your hard drive, and cancel the service anytime after than. Or, keep the service going to enjoy the emailing and the faxing, the activity tracking, the personalized HTML webpage, and the ability to access and tweak your resume at a moment's notice from any computer in the world, 24/7.
How It Works:
Decide right off the bat whether you want the monthly subscription ($14.95), the annual subscription ($59.95), or the FREE trial, which lets you create a resume at no cost and pay only when and if you think the product is worth it. Hint: You can't go wrong with the free trial.
Once logged in, the software evaluates your unique occupational status and creates an individualized template specific to your career stage--from entry level to executive. That said, the template remains fully customizable by you. You can select and shift headings (like "Objective" or "Summary" or "Licenses"), tinker with fonts, adjust page margins, and experiment with different graphical layouts and formats.
Step-by-step, the system prompts you for information needed for each section. Your unique profile determines what information you're prompted for next. An experienced professional, for example, will be prompted for different information than a student. And by the way, if you've got employment gaps, if you're light on experience, if your skills come from a variety of sources, you don't need to worry which format (chronological, functional or hybrid) will best present your credentials. Pongo's software figures that out for you.
As mentioned, the resumes and cover letters you create remain on the company's servers, accessible to you from any computer anywhere in the world, day or night. Subscribers create a resume (or multiple resumes), edit the resume whenever needed, and print, email, download and fax their resumes directly from the company's online application.
Here's What I Liked:
It's free to try. If you're happy with the resume you create, and want to be able to print, email, fax, download and track your documents, simply upgrade to a monthly or annual subscription anytime.
Each resume created is a unique template--though fully customizable by you.
Formatting is automatic. Pongo's software decides if you are best served with a chronological format, a functional format, or a hybrid of the two.
Create as many variations of your resume as you need. And keep track of them easily.
Subscription includes cover letter. And the sample cover letter template contains pre-written text to help you get started.
Employers receive both text-only and formatted versions of your resume (Word, HTML or PDF) when you email directly from the application.
Fax directly from Pongo's website. All subscriptions include 20 free faxes per month.
Tracker feature keeps track of all the "who, what, when and where" of resume submissions.
Excellent customer service: telephone and get a real person.
Pongo Resume - Review Summary:
In sum, PongoResume.com is a solid resume building program that offers a lot of bang for the buck. You can sneak by for $14.95 and call the subscription quits after putting together an initial set of resumes and cover letters. Or let the subscription run for 2 or 3 months and get some mileage out of those complimentary emailing, faxing and webpage services. Or sign up for a year's worth of benefits -- especially if you see a job search taking a while to conclude. Even at that rate, you're only paying one-half to one-third what a professional writer would charge -- for a single resume. Pongo Resume is easily my Top Pick for resume builders.
With no charge to create a resume, you can see how it works and look at the finished product before you invest a dime.
Go To PongoResume.com


Back To Top
Go back to "Reviews of Resume Builders"