ResumeZapper.com
A Best-Rated Resume Distribution Service






$49.99
(email 1000+ recruiters)

Thousands of top U.S. recruitment and search firms, commonly known as Headhunters, are targeted by this service. Your resume is sent straight to the inbox of their email. The company, in business since 1998, currently has over 10,000 contingency and retained search firms as members--including over 1,100 who do international placements. This is not a resume posting site; rather, Resume Zapper concentrates solely on resume distribution to recruiters.


How It Works:
Sign up with a major credit card. The cost is $49.99 for the basic service. Fill out a secure, online form and follow the wizard to download your resume and cover letter. You'll then receive two emails from the company.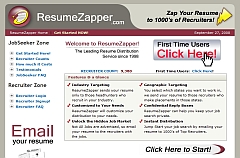 The first lets you know they received your resume. The second lets you know your resume was "zapped," and lets you know how many recruiters received your resume.
An additional service ($15.00) will provide you with a list of those recruiters--by the firm's name and the state in which that particular office resides.
Your resume and cover letter will be sent to 600 general recruiters who have elected to receive all resumes, as well as your choice of 3 industry/discipline selections and up to 3 geographic filter selections. Industry selections range from Accounting & Financial (1,458 recruiters) to Wireless International (429 recruiters) and everything in between.
If there is interest or a placement fit, the recruiter gets in touch directly with you.
Here's What We Liked:
Industry targeting: company has compiled a truly amazing number of industry/discipline selections represented by member recruiters. And they show you those disciplines up front.
Every state in the U.S. represented in the geographic filter selections. Pick the state you want to live in, and they will zap your resume to those recruiters who make placements in those states.
Keep your job search private with confidential reply boxes.
Your resume goes straight to email in-boxes.
Resume Zapper - Review Summary:
In summary, career counselors will tell you that the lion's share of job opportunities never hit the radar. They're handled quietly and out of sight by third-party recruiters who find qualified candidates and place them in those jobs. If you have 3+ years of work experience and want to be in the running, you need your resume in the hands of recruiters. Even if you're a recent graduate, recruiters may be interested--especially if you have a technology major or post-graduate degree (i.e. an MBA).
Resume Zapper is focused on only one thing and they do it extremely well--getting your resume in the hands of recruiters. For the price of dinner out, you can jump start your job search by emailing your resume to 1000's of top U.S. recruiters.
Go to ResumeZapper.Com


Back To Top
Go back to "Reviews of Resume Distribution Services"