Review of... ResumeViper.com
ResumeViper.com
Formerly, a well-regarded Resume Distribution Service. Now, we advise...
Avoid
Dropping from a leading contender to the bottom of the heap overnight, Resume Viper has garnered our AVOID rating for two good reasons: their phone lines are dead, and email sent to the company receives no response.
The company is either on autopilot (and nobody has noticed the phone aren't ringing and email is piling up), or the owners have just walked away from the company and the website is dead. Either way, the last thing you want to do is send your money to this outfit.
No Phones, No Email Response.
AVOID this company.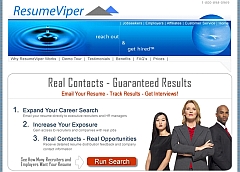 Alternatives: if you're looking to post your resume to top job sites, we would recommend Resume Rabbit. The Rabbit has a straightforward and user-friendly service, submission reporting feature, and option for anonymity. Read our review of the Rabbit HERE.
And if you're looking to send your resume to top U.S. recruiters, we would recommend Resume Zapper. They specialize in distributing resumes straight to the inboxes of recruiters who have opted into their service. The company offers industry and geographic targeting, and confidential reply boxes. Read our in-depth review HERE.
To see mini-reviews and pricing points on the three leading resume distribution services (and the leading resume posting service)...
Jump To Our Page: Resume Distribution Services Reviews.


Back To Top
Go back to "Reviews of Resume Distribution Services"